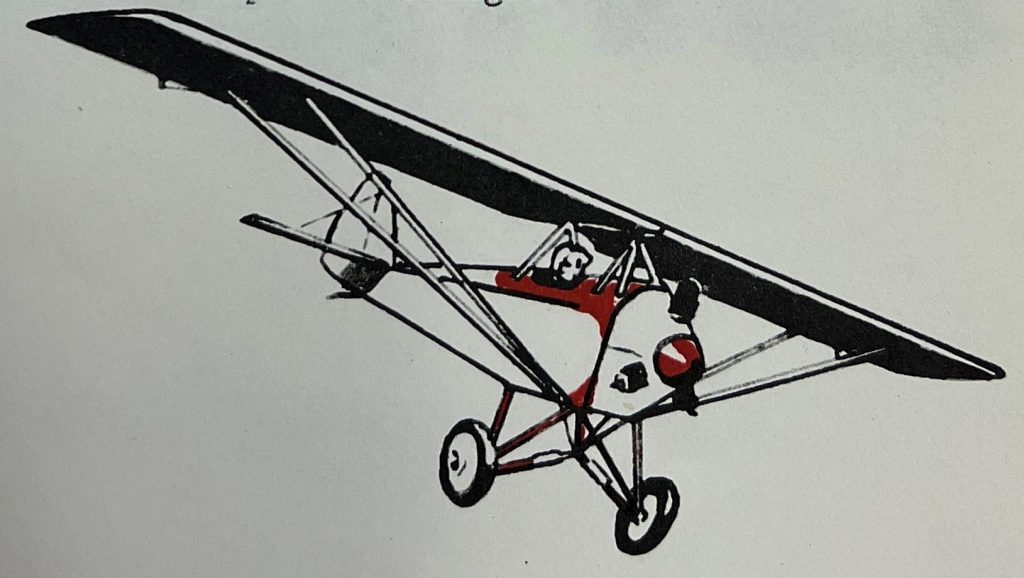 The Omaha Dailey News announced in July 1928, that a young bachelor named Walter Myers would test fly his homebuilt airplane at Olson Airport in Florence. Five thousand people came to view the first flight, as young Walt lifted off his tiny monoplane, and proceeded to fly it successfully, and even dived the airplane a few feet above the spectators so that they parted like waves!
Unknown to the public, Walt had quietly flown the plane at 6:00 am one morning a week prior to the announcement, to avoid publicity. His little parasol wing ship, an original design, was probably the first home constructed airplane in Omaha, was called "Little Job". It was powered by a 35 hp, three cylinder, Anzani engine, it had a 23 ft wingspan, a top speed of 125 mph and it landed a 60 mph. The total construction cost was $400, with $50 for the Anzani engine.
Little Job was constructed in his parent's basement over a two-year period, and Walt's father, a machinist, advised him on technical matters. Walt also went to the library for instructions on forming the homemade propellor, wooden wings, and welded steel fuselage.
Walt flew Little Job for five years and then sold her. He also owned a Lincoln-Page biplane, and a later photograph of Walt, and his wife Billie, shows a fashionable young couple — he in flying suit, and she in a one-piece pants suit with bell bottom trousers, and both of them, of course, in helmet and goggles.
Chapter 80 is proud to have Walter Meyers, and early bird builder, as an active member at chapter meetings.
Nebraska Air Races 1930s and 1970
Walter Myers participated in the Nebraska Air Races in the 1930s in his Lincoln Page biplane and in 1970 in a Cessna 172.