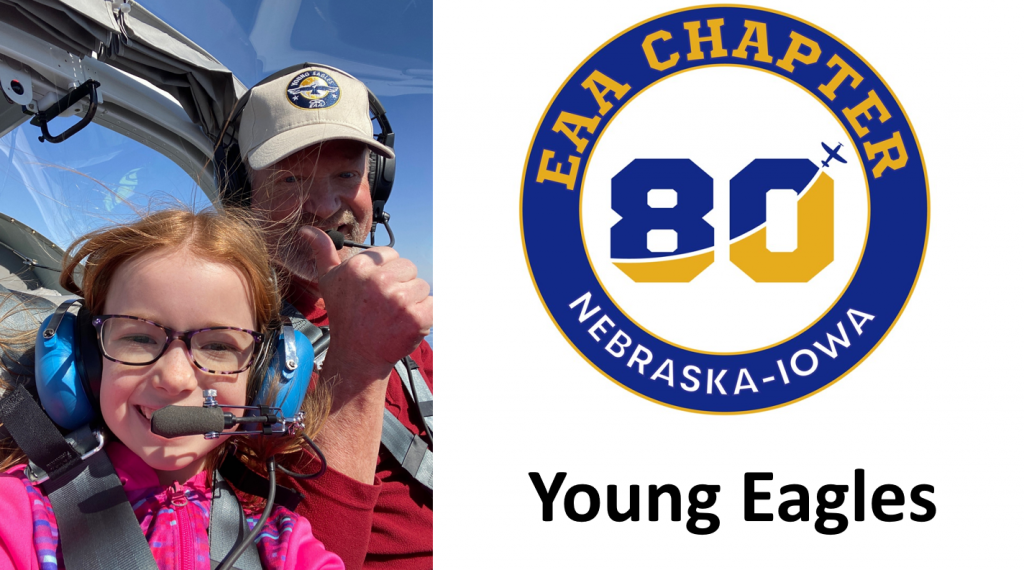 Scott Pridie is coordinating the Young Eagles program for 2022. Coordinating Young Eagles events takes a tremendous amount of coordination and effort; please be sure to thank the coordinators and volunteers when you're able to.
Introduction / 2023 Flight Plan / FAQs / More Information
Introduction
The EAA Young Eagles program provides to interested young people, ages 8 to 17, an opportunity to go flying in a general aviation airplane. These flights are offered free of charge and are made possible through the generosity of EAA member volunteers. Since the program began in 1992, over two million Young Eagles have enjoyed a flight. Through Young Eagles, kids not only learn about how an airplane works, they also see their community from a new perspective. EAA Chapter 80 actively participates in this exciting program. Our volunteer pilots have flown over 6500 Young Eagles since we started in 1992. We are proud to share our passion for flight with today's youth. Contact our Young Eagles coordinator, Scott Pridie, at youngeagles@eaa80.org if you would like to participate in this program. Scott coordinates both pilots wanting to inspire today's youth and kids wanting to discover the pleasure of flight.
2023 Flight Plan
To register, please go to yeday.org to schedule a flight. You will need to include each child's full name and age, along with a contact name and phone number. You should receive a reply within a week. Preference is given to first time flyers. Please limit registrations to one per child per year.
| | | |
| --- | --- | --- |
| June 17 | 9:00 am – noon | Millard Airport |
| July 15 | 9:00 AM – Noon | Millard Airport |
| August 19 | 9:00 AM – Noon | Millard Airport |
| September 2 | Aviation STEM DAY | Millard Airport |
| September 10 | 12:00 – 2:00 pm | Plattsmouth |
| October 14 | 9:00 am – noon | Millard Airport |
| November 18 (wx permitting) | 9:00 am – noon | Millard Airport |
Young Eagles flights are subject to weather cancellations. Rain, winds, and low clouds can prevent a safe and enjoyable flight experience. If weather looks questionable, please call the airport on the morning of the scheduled event.
Millard: (402) 895 4974,
Council Bluffs: (712) 323 2173 and
Plattsmouth: (402) 298 8468.
EAA Chapter 80 is always looking for young people to participate in the Young Eagles program. We would like to hear from any individuals or youth groups that would be interested in this incredible opportunity. Parental consent is required and a partent or adult guardian must be present at the airport. Reserve your spot today by emailing us at youngeagles@eaa80.org (Note: If this email link doesn't work for you, you can copy and paste it into whatever you're using for email).
FAQs
What happens during the flight experience?
First of all, your pilot will walk you to the airplane, pointing out different parts, explaining what makes it fly, and completing a careful "walk around" preflight inspection of the airplane. Once in the airplane, your pilot will help you buckle your seat belt, adjust your headset and explain the different parts of the cockpit including the instrument panel.
After you take off, you'll see our community in a new and exciting way. You may fly by Eppley Airfield and the Missouri River, Boys Town and Cunningham Lake, or Mahoney State Park and the Platte River. Your pilot will help you identify landmarks that may look entirely different from the air. If you are like most Young Eagles, you'll remember this experience for the rest of your life.
Most Young Eagle flights last between 20 and 25 minutes. The cockpit is equipped with two sets of controls. If you are sitting in the co-pilot seat, you might have the opportunity to take the controls and try a gentle turn or two with the pilot's assistance. Once back on the ground, you will have time to ask any more questions about the flight. Your pilot will be happy to tell you more about flying and their airplane.
You will also receive an official Young Eagles certificate which is signed by your personal pilot. The pilot then returns the registration form to the EAA Young Eagles office where the flight will be officially registered. After a few weeks, you will be able to see the flight information in the World's Largest Logbook.
Can I bring a friend? Of course! Sharing the experience can make the flight even more fun. We will try our best to accommodate friends who want to fly together. With advance notice, we are able to accommodate youth groups who want to share the experience with each other. Contact our Young Eagles coordinators at youngeagles@eaa80.org to set up an event for your youth group.
Who are the pilots? The pilots flying for the Young Eagles program are members of EAA who are volunteering their time and aircraft to make your flight possible. All Young Eagles rides are given by licensed private or commercial pilots, in aircraft that have been inspected and certified by the FAA.
How do I participate? Participation is easy. Our flight schedule is located at: yeday.org. Use yeday.org to schedule your flight. Although reservations are not required, we highly recommend that you schedule your flight. Contact our Young Eagles coordinators at youngeagles@eaa80.org. In order to fly, you must have the registration forms signed by a parent or guardian, and you must have an adult sponsor present at the event.
Where do I go? This year we will be flying out of Millard and Plattsmouth airports. Check the calendar at the top of the page to see which airport we're flying from on the date you want to attend. Be sure to call the airport that morning if weather looks questionable for flying.
What is EAA? The Experimental Aircraft Association is an organization that promotes all forms of recreational aviation. The EAA was started in 1953 by some individuals in Wisconsin who were interested in building their own aircraft. Over the years it has grown to include all types of aircraft, from ultra lights to commercially manufactured aircraft. An interest in aviation is the common bond that brings our members together. The EAA is a national organization and has local chapters, such as ours, all over the world. You don't have to be a pilot to join; the only requirement is a love for aviation.
To register, please include each child's full name and age in the email automatically generated. You will receive a reply within a week.
Need More Information?